As the end of Ramadan grows nearer, Muslims around the world prepare for the jubilant celebration of Eid al-Fitr on the 15th of June, 2018.
In approaching this occasion, what preparation is needed to ensure that adherents enter its celebration on the right note and in the right spirit?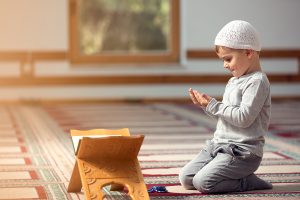 Our blog this week dives into the customs and practices on the days preceding Eid – a time of great joy and anticipation for its celebrants around the world.
Preparations in the home
As with any major religious or cultural festival, on the days preceding the end of the fasting period, Muslims get their house ready for one of the most important religious festivals of the year.
Beyond just cleaning and arranging, some decorate their homes with lights and candles to signify the joy of this period. Many prepare their homes for massive meals and celebrations. If you're planning a lavish event for close friends and family, ensure your home is child-proofed to protect jubilant children who will be running around and celebrating this joyous festival.
In the process of cleaning and decorating, many donate unwanted household items to those less fortunate. Given that Ramadan is a time of simplicity, compassion, and introspection, giving to those in need is a key part of the preparations preceding Eid.
Stocking up on gifts
Given the celebratory nature of the occasion, gift-giving is a popular practice during Eid al-Fitr.
When visiting family and friends or having them over at home, many present gifts which add to the harmony and kinship of this festival. Presenting children with eidi (money) is also a common practice and is considered a sign of goodwill. While there is no hard-and-fast rule about what can be gifted, popular items include gift baskets filled with traditional treats and goodies, pictures and ornaments with stunning Arabic calligraphy, money, and the like. Some also give out rations such as rice, barley, and other staples for families not as fortunate to celebrate lavishly on this occasion.
In this process, many also splurge on new clothing for themselves and their families. Given the significance of the event, families deck themselves in their finest and enter this day looking like nothing short of royalty.
Meal preparation
Another significant part of Eid al-Fitr is its lavish meals. Given the end of a period of austere eating, Muslims around the world go all-out in their meal preparation on the days preceding the festival.
Many start the day with dates, couscous, bread and honey, or seviyan, a special type of noodles. Khurma is prepared using these noodles, after boiling them and serving it as a milky, soupy pudding. This is a breakfast that's popular in predominantly South-Asian countries.
Other traditional treats include Kahk al Eid, which is made of flour, sugar, butter, and milk. Here, the ingredients are combined and rolled into little balls, into which filling is then added. Once this is done, they are re-rolled and baked until crispy and golden. When visiting each other, families often eat and exchange these delightful, sugary cookies. Other types of treats include kheer, baklava, and kanafeh. All of this is, of course, in addition to other popular dishes including the world-famous biriyani.
Personal transformations
In the process of preparing for this occasion, most people believe that the most important part is preparing one's heart and mind for the close of Ramadan. Many pray and make amends for any wrong done and approach the end of fasting with a sense of gratitude for the many blessings bestowed upon them. Above all, the gratitude of being able to witness yet another Ramadan is one that ranks particularly high for most individuals.
Final thoughts
Ramadan never fails to bring out the spirituality and perseverance among its many celebrants.
In ending this period of fasting, preparation for Eid takes place with great love and devotion. Among the many activities individuals undertake in their homes and kitchens, reflecting on the lessons learned during this holy period and putting them into practice, are easily the most important steps.
At Ceylon Exchange make your presence felt this Ramadan through our speedy money transfers. Contact us today for more information on our comprehensive range of services!