With rapidly advancing technology, services assisting individuals to transfer money has increased over the past few years. This has caused many service providers to offer seriously competitive rates and top-notch services, to their wide array of international clients. While sending money online isn't necessarily a complex process, it's generally wise to keep a few factors in mind before doing so.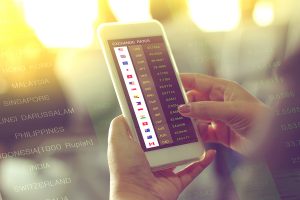 Through this week's blog, we aim to explore what these factors might be and how they can help bring down cost. Let's take a look below:
Choose service providers with an established presence and reputation
High ranking transfer companies don't just offer better services, they also provide more security against any fraud or loss caused by unknown agents or third parties. If you're trying to determine if a service provider is legitimate or not, simply look at factors such as whether they have an established physical office, their social media pages, customer testimonials, and the like.
Always check transfer rates
If you're not in a particular hurry, hold off on making your money transfers until the Australian Dollar is performing well. Given that fluctuations occur on a day-to-day basis, ensuring that the currency you're transferring is the highest it can be, will increase the value of your transfer.
Certain service providers may have a fixed exchange rate. If so, make sure you're fully aware of these rates before you transfer money. Sometimes, the incurred cost of a service may be low, but the company's fixed exchange rate high.
If this sounds a little too exhausting for you, you could always set up rate alerts or even go for market orders. The former is basically where you set up daily alerts on currency fluctuations, so you can, as the saying goes, strike when the iron is hot. Market orders, on the other hand, are basically where your foreign exchange broker monitors the rates on your behalf and then makes your transfer when the exchange rate gets to the closest where you want it to be.
Don't just use standard bank transfers
Sure, sending money through a bank may be a generally more secure way of sending money online. However, this might not necessarily be the cheapest option. When it comes to making large transactions, sending money from bank to bank might just cost you dearly.
When you're deciding how to make your transaction, do a little research and see which is the cheapest method available. Sometimes, money transfer companies offer additional services including cash pick-ups or other forms of online transfers. These may be cheaper and more suited to your needs, compared to conventional bank transfers.
If you do choose this option, nonetheless, check whether your recipient will be required to pay any fee or service charge upon receiving the money. Certain banks may, in fact, levy such charges and it's always best to be aware of them, beforehand.
Don't wait until the last minute
While many individuals transfer money under emergency conditions, leaving no other choice, it's always best to try and do so without an imminent deadline. This is because certain service providers charge more when money needs to be sent to the recipient within a short time frame. Avoid these by being proactive and sending your money ahead of time, through the cheapest service available.
Read up on refund policies before you choose cash pickup options
While refund options may be a little complex among money transfer companies, if you're opting for a cash pickup option, make sure you're well versed with the company's refund policy and the like. If you're unable to decipher its finer points, take the time to sit down with an agent and clear out how the policy works. This is in the event your recipient is unable to pick the funds up on time or experiences any other unforeseeable situation.
Cut down on unnecessary expenditure
As far as it is possible, avoid making transactions over the phone or through your credit card. While service fees may differ across various money transfer companies, these tend to be a little more expensive than other options.
If you still choose to do so, make sure you confirm all charges that will be made to your card before you proceed with your transaction.
Key Takeaways
Given its increasing role in everyday business and personal affairs, money transfers ought to be as cost-effective and efficient as possible. By following the tips above, you can ensure that you and your recipient will indeed be getting your money's worth, as well as incurring the least possible stress and hassle.
At Ceylon Exchange, helping you transfer money is what we do best. Take a look through our website and stay up to date with all you need to know about our competitive rates and currency exchange services. Sign up with us today!