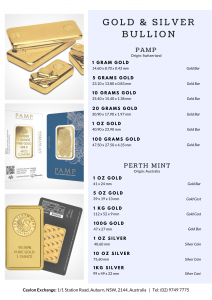 Secure Your Wealth with Pure Gold & Silver Bullion today!
Ceylon Exchange is an authorised distributor for Perth Mint, a Western Australian Mint that distributes platinum, silver and gold coins for collections and customers worldwide.
All of our bullion products are stamped for their purity and are GST free.
What is a Bullion?
Bullion is a mass of precious metal kept as a store of value or investment.
Why Buy Gold or Silver Bullion?
– Gold and Silver are physical stores of wealth.
– It can easily be converted to cash whenever you need it
– Gold and Silver can grow in capital value over time
– Investment grade bullion is GST free so there is no loss to tax when you make a purchase
Secure your Wealth with Pure Gold and Silver Bullion today!
*Please note that the information found above is general in nature. Nothing should be taken as personal investment advice. One should consult a professional advisor before making any investment decisions.