Whether you're relocating your entire family abroad or are on a solo adventure, currency exchange services and option to transfer money abroad are a top priority when you land in Australia.
While banks are not the most ideal institutions to obtain cost-effective currency exchange services or those to transfer money with, they certainly provide the facilities with which you can perform these activities.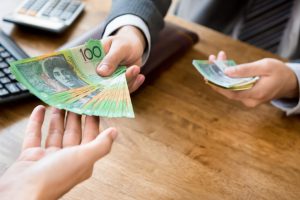 Our blog this week considers all factors that must be taken into account when you set up your first bank account!
The best time to set up an account
Deciding on when to set up your account plays a role in the ease with which you can settle down in the country.
Often the best course of action is to set up your account prior to arrival. Anyone carrying AUD $10,000 or more into the country, must legally declare it to Customs and Border Protection. Apart from the hassle of having to do so, carrying so much money in your hand luggage or suitcase is never the wisest idea.
Setting up your account can, therefore, be done online and with the support of your bank of choice, with little to no hassle or inconvenience. Nonetheless, if you choose to wait until you arrive here, this process is just as easy
Once you do so, you can transfer money, make deposits, and expect many other services from your financial institution.
Online registration
Most banks allow you to set up your account online. Choosing such a service will lessen the hassle that might crop up as you settle down in the country.
Here, you can choose between three types of accounts; everyday banking, savings account, or a term deposits account.
Documents required
Once you've chosen your preferred type of account, you will need to submit certain documentation to proceed with your application. While these may vary with the bank you choose, most documents required stay the same. These include an Australian passport/Australian visa in a foreign passport, an Australian driver's license, or an Australian Medicare card. These are used to verify your identity.
As a new customer, you are also required to provide one form of primary ID or two secondary IDs.
Examples of a primary ID include an Australian photographic driver's license or learning permit, an Australian passport, a government-issued National Identification Card, among others. Your bank will issue you any further examples.
Secondary IDs include your birth certificate, a Medicare card, an attendance letter from your school for anyone under the age of 18, and other similar documentation.
Once you've completed this process, you can expect your debit cards to arrive in a short period of time. You can even start transacting with your bank account while you're still away, making your transition process smoother than you imagined. Thereafter, enjoy currency exchange services and transfer money online with ease, before even entering the country.
Setting up an account after arriving in Australia
The process for setting up accounts upon arrival is more or less the same.
You will be required to complete an identity check, providing specific identification documentation as required by your bank. Until such time as this process is completed, you will only be able to deposit money and not withdraw it.
How to obtain currency exchange services and transfer money
Currency exchange refers to the ability of your bank to both buy and sell international currencies to you. Given that this is often a critical need for many people, your bank should be able to set this process up with ease. This is the same if you want to transfer money.
For both these procedures, it's best to check with your institution in advance what these processes entail and what information is required before-hand.
While banks may offer quick service, however, it's important to note that performing such functions can often be an expensive process. It is, therefore, better to opt for alternative service providers such as specialised transfer companies.
Key Takeaways
Setting up an Australian bank account is a notoriously easy task.
Whether you choose to set your account up prior to your arrival or even once you settle down in the country, the processes remain the same and are generally, hassle-free.
However, it must be noted that while transferring money is an easy exercise with your bank as the middle-man, this is often an expensive process. Owing to hidden charges and extremely high exchange rates, you're likely to spend more on transfer fees relative to the money you're actually sending abroad.
Thus, while setting up your bank account is essential, transferring money can be done more cost-effectively with a transfer company such as Ceylon Exchange.
Looking to transfer money? Ceylon Exchange is renowned for its excellence in transfer services. Contact us today for more information.